When people talk about "the future of skincare," I don't think any of us predicted something quite so futuristic. Yet here we are with these "killer looks" in 2023. Whether you're a serial Instagram and tiktok-scroller or just have your thumb on the pulse of the newest, coolest skincare innovations, it's likely that you've heard a little something about LED skin therapy. In the past, these fancy treatments were only available under the practiced hand of your aesthetician for in-office treatments. Now, this luxury is available for you to use at your leisure when your skin is in the mood for something fancy.

LED light therapy is actually a NASA technology that was adopted by the skincare community when its ability to heal wounds and tame inflammation was noticed. Blue light frequencies are typically used to treat acne, while red light is used for anti-aging concerns. If shooting lights at your face sounds scary, you should know that there are no ultraviolet rays in these devices. The only frightening thing about these masks are the look of them.
Most LED face masks have pretty hefty price tags, and nearly all of them claim transformative results. So what's the deal? Do they work?How do they work? Are they worth the money? And, um… What is light therapy? We're here to dish the dirt.
What is light therapy?
In short, light therapy is a treatment which has been around for about 30 years. It's the process of exposing skin to red, blue, green, cyan, yellow, orange/amber, purple, white, and near-infrared LED light which each have various skincare benefits.
What does light therapy do?
When used regularly, LED light therapy can be used to reduce breakouts, pigmentation, rosacea symptoms, bags under eyes, psoriasis and other side-effects of inflammation. If you don't suffer from the above complaints, LED light therapy can simply help to improve the appearance of your face and neck (the first to show signs of aging).
LED LIGHT THERAPY COLOR CHART
RED LIGHT THERAPY

RED: Is the anti-ager color of choice. Studies have shown it reduces fine lines and wrinkles. In addition to this, the body produces more collagen and elastin equating to healthier and younger looking skin. It can also improve overall facial texture and reduce scarring. This is the most common color users select.
BLUE LIGHT THERAPY

BLUE: Is for anti-acne primarily. It kills the bacteria that causes acne in the first place. It's also been shown to help with those who have psoriasis and reduce damage caused by the sun. This is the favorite for those who have been struggling with Acne and have a hard time with ingredient based solutions.
ORANGE/AMBER LIGHT THERAPY

ORANGE/AMBER: Is used for firming up the skin, reducing dullness and dark spots. Users will often report their skin "glowing" when used regularly and is one of the favorites used leading up to a special occasion.
GREEN LIGHT THERAPY

GREEN: Is for reducing dark spots as well as balancing out skin levels for those with oily skin. Studies have also shown it aids with hyperpigmentation and reducing inflammation. However, the it's most commonly known for reducing bags under eyes by users.
YELLOW LIGHT THERAPY

YELLOW: Is used for calming inflammation and reducing redness. Studies have shown it's a great option for users specifically looking to reduce the redness caused from the sun. It also boosts lymphatic flow which helps remove toxins and increases skin hydration/circulation.
CYAN LIGHT THERAPY

CYAN: Is used for reducing swollen capillaries as well as inflammation. Studies have shown it has also been used to treat mild forms of acne.
WHITE LIGHT THERAPY

WHITE: Is used for accelerating skin metabolism and firming up the skin. It also has many of the same benefits of red such as reducing fine lines, reducing wrinkles and inflammation.
PURPLE LIGHT THERAPY

Not on our chart but...

PURPLE: Is simply a combination of red and blue light therapy together. It shares both benefits of each at the same time.
And the benefits go well beneath the skin's surface. In fact, LED light treatments have been applauded for their mental health benefits, too. Client feedback suggests that a short period of time spent under in-clinic LED lamps could dramatically improve mood, lifting spirits and reducing stress levels. Need proof? LED light therapy boosts our ATP so that it can fuel other cells with energy and boost our serotonin count. Needed.

Since the results for your skin and mind are cumulative, you need to have regular treatments to see an effect. If you can't afford regular LED treatments at your local clinic, spa, or salon, at-home light therapy could be the answer. And that's where the best LED face masks come in.
If you're curious about the LED face masks that will up your skincare game, read on for some of the best on the market that we have tested..
"What's wonderful about LED therapy is its versatility. Whether you're combating acne or chasing away wrinkles, there's a light for that."

- Sarah Hartman

"When we talk about LED therapy, we're not just discussing skin deep transformations. We're delving into the very wavelengths that invigorate cellular health."

- Dylan Wright

"For those wary of invasive procedures, LED light therapy offers a radiant solution to skin concerns, illuminating the path to healthier skin."

- Evelyn Lee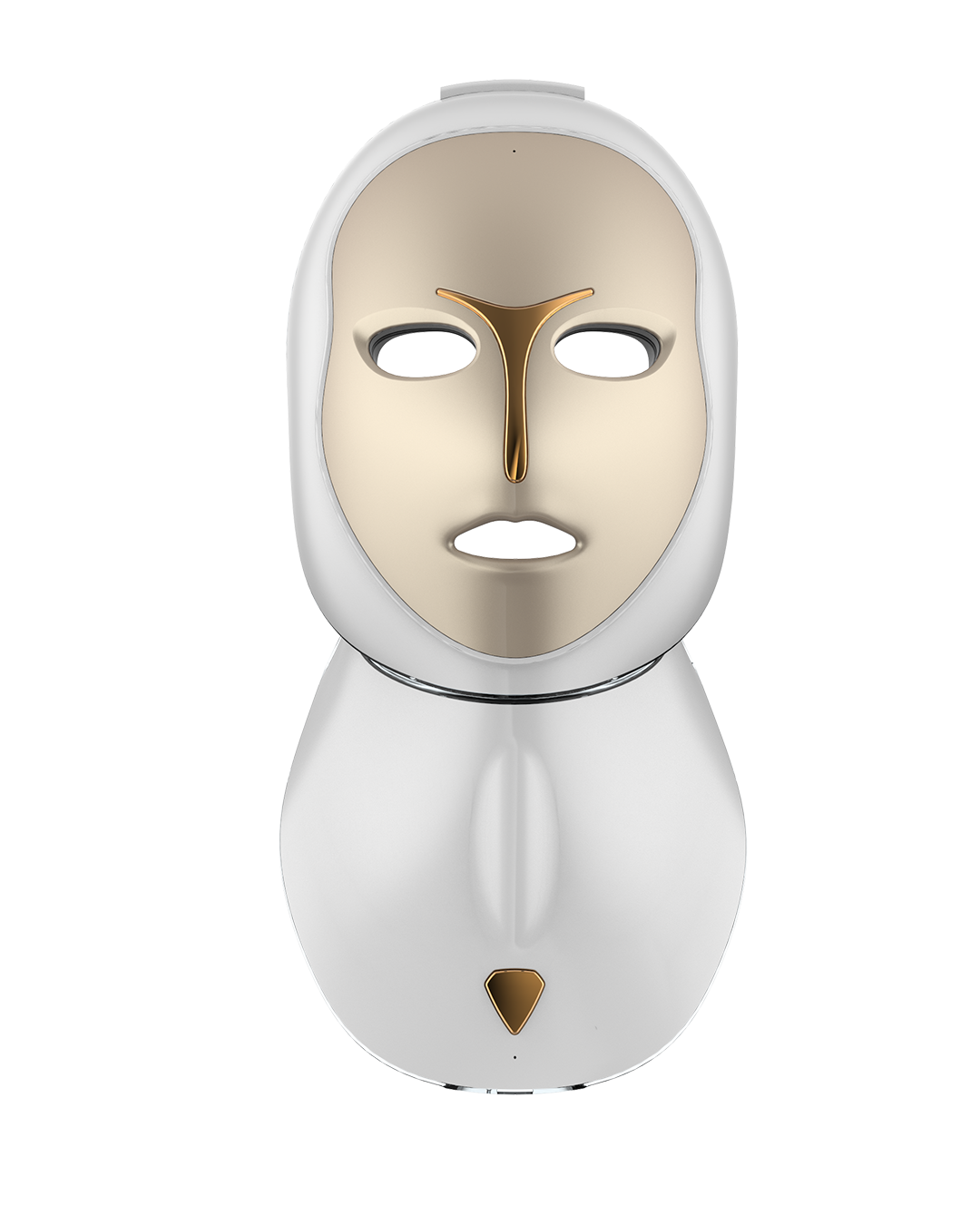 BEST IN TECH: ARTEMIS
This goddess esque mask and neck plate are forged in the beauty capital of the world Seoul. It has a vast array of 1080 high density powered LEDS which utilizes 7 colors which already puts the Artemis in an entire class of it's own.
The tech does not stop there though. It features the best in class app with complete customizable settings for all your trouble spots. Plus an available case that does sterilization and charging simultaneously.
In addition to this, there are automatic settings for those who prefer a fast treatment as well as a setting that automtically caters to you based on your local weather. If you're keen on living in the year 3023 this is your wireless friend.
Pros: App is next level for custom and automatic treatments, easy to use, full décolletage coverage (neck & upper chest), wireless, straps were not an afterthought.
Cons: Extra Pricey
SHOP ON ARTEMISMASK.COM
BEST IN TECH RUNNER UP: AVINA
Another Dr. made brand. This space age looking mask also hails from the beauty capital of the world Seoul. It has an incredible array of 300 high powered LEDS. It's truly a remarkable anti-ager and acne fighter that keeps on giving with each use. It's no wonder why users of this tech have glass skin. It features a smart chip that takes you through 2 different modes for a picture perfect session.
Pros: Easy to use, straps were not an afterthought, nice cradle, automatic sensor for when it's in use and not in use.
Cons: Pricey, has a remote but at least it's not cumbersome.
SHOP ON AVINAMD.COM
BEST ALL AROUND: CLEOPATRA LED LIGHT THERAPY MASK
This ironman-looking mask not only treats your face with LED light therapy, but includes neck coverage so you can look forward to no longer having neck wrinkles. It has 192 LEDS and 7 different light modes to treat every ailment from acne, aging, scars, dullness and more. These spa-esque light treatments with 4 different power levels are completely wireless which means it's time to indulge in some me time from anywhere.
Pros: Easy to use, neck coverage, wireless, 7 colors, 4 power levels, comes with an app and a nice case.
Cons: Finding where to tap exactly, easy once you know after 1st use, optional adjustable strap could be improved but at least it's sturdy.
SHOP ON CLEOPATRAMASK.COM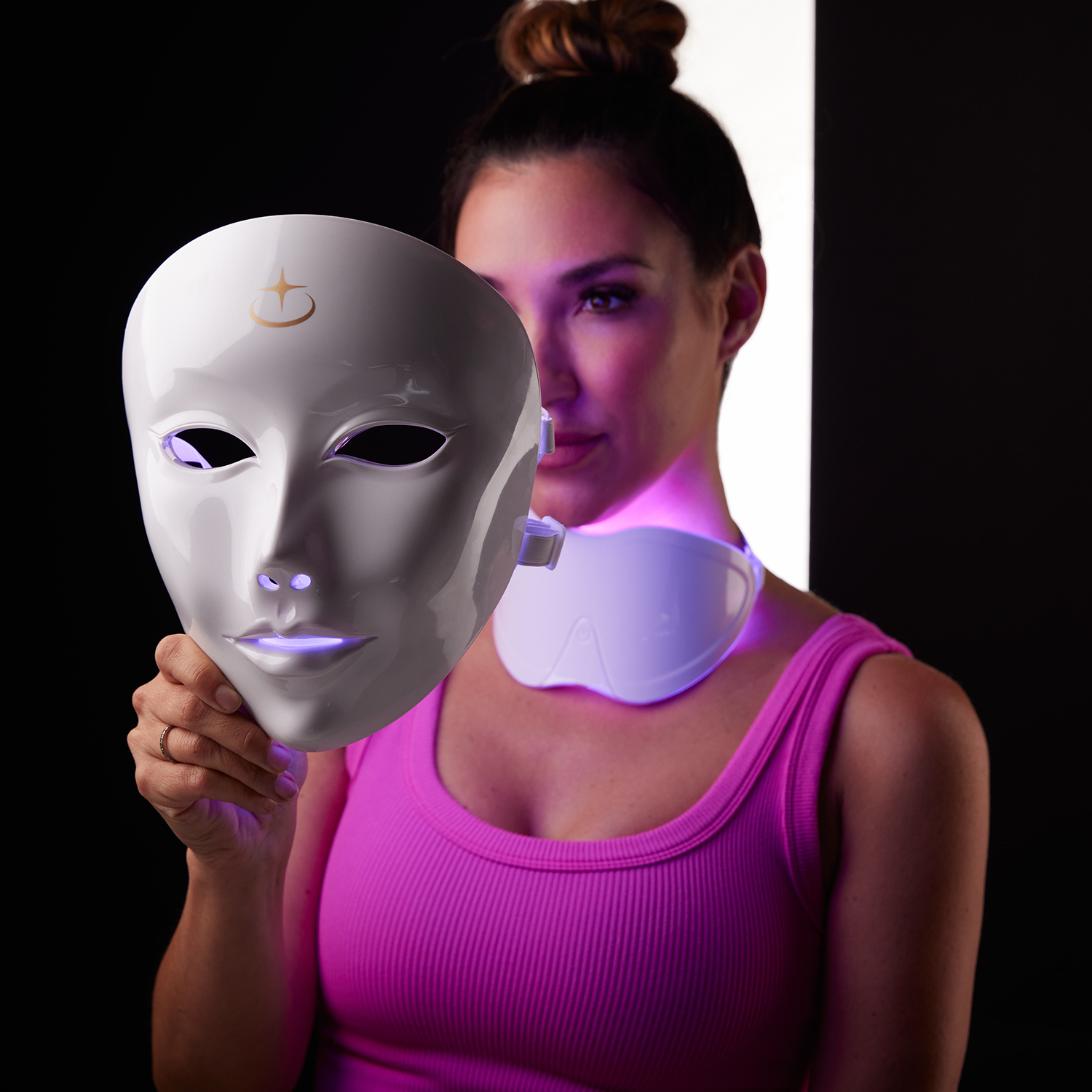 BEST ENTRY-LEVEL OPTION: ASTERIA LED MASK
This mask will have you looking like Jabbawockeez member in no time! But make no mistake, your skin will be dancing for joy. With 7 wavelengths and neck coverage, you know you're getting what you need even if its you're first time.
Pros: Easy to use, neck coverage, wireless, 7 colors, extra lightweight, dual strap (the top one makes it perfect for adjusting to the face)
Cons: Box packaging could be improved.
SHOP ON ASTERIAMASK.COM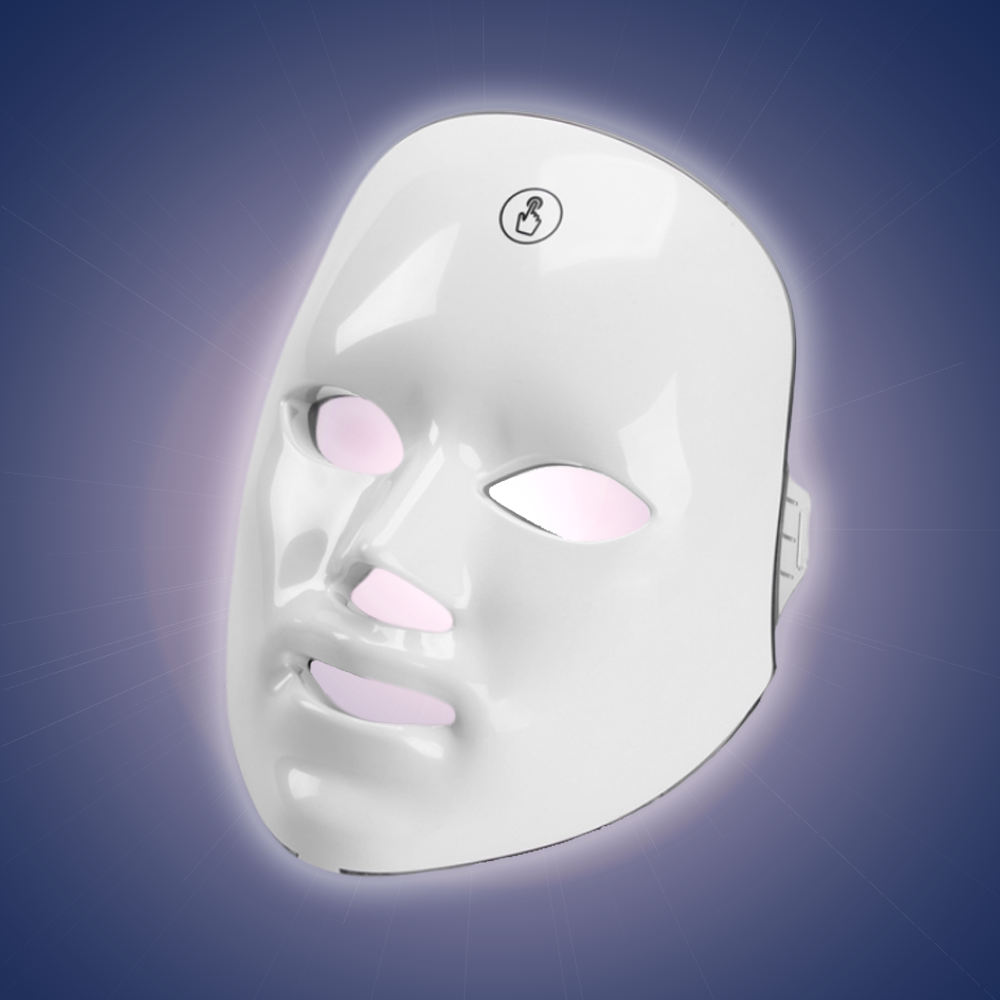 BEST BUDGET OPTION: REGENALIGHT LED MASK
This Jason esque looking mask will spook your skin into better condition. With 7 colors and it's wireless portability, it's hard to go wrong with this one especially for those new to light therapy or those testing the waters.
Pros: Wallet friendly, easy to use, literal tap here button, wireless, 7 colors.
Cons: The optional adjustable strap could be improved but it is secure at least.
SHOP ON REGENALIGHT.COM
BEST IN NUMBERS: CELESTALIGHT
This masquerade esque looking mask that also shines from Korea will have you glowing like a celestial goddess. It's equipped with an out of this world one thousand two hundred high density LEDS to make sure every single cell is covered. Yes, you read that right. This one also comes with a automatic 3 color cycle that will transcend your skin through light and time.
Pros: Easy to use, wireless, nice cradle, straps are efficient.
Cons: Pricey, has a remote but its very simple.
SHOP ON CELESTALIGHT.COM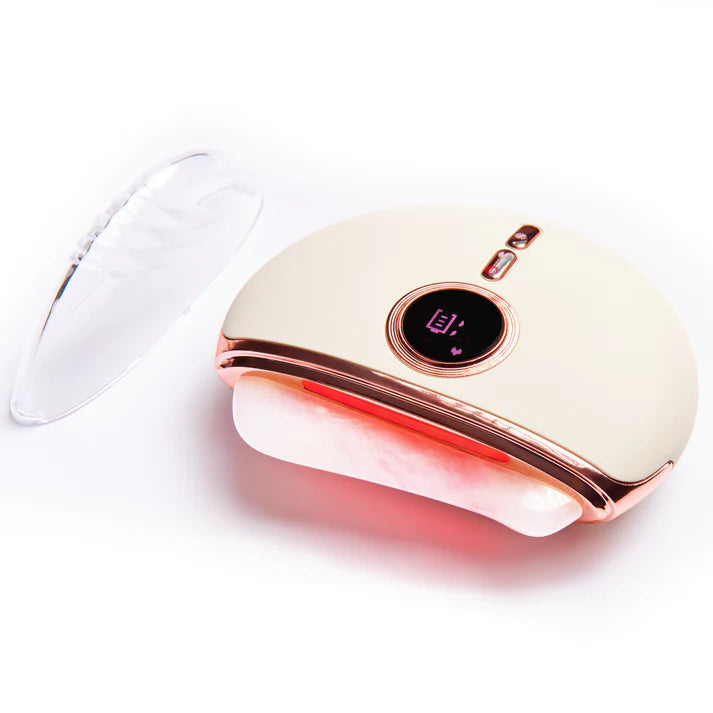 BEST ACCESSORY: DERMACREST GUA SHA LED DEVICE
This ornate crescent shaped device combines Gua Sha, Red Light, Heat, and Massage Therapy into one. Designed in Korea with real Bian stone, it's perfect for those looking for a non-invasive face lift.
Pros: Easy to use, wireless, made of real Bian stone, combines multiple therapies.
Cons: We think the stone could extend out a tad longer. Arms can get tired.
SHOP ON DERMACREST.COM
BEST WAND: WANDEROUS
These wands have a gorgeous crystalline appearance and are perfect for touching up the skin when you need it most. It's ultra portable and has both Red & Blue in one.
Pros: Easy to use, wireless, lightweight, has both red and blue, power button.
Cons: Arms can get tired easily in the recommended 5 minute treatment.
SHOP ON WANDEROUSLED.COM
BEST FOR TEETH: SNOW TEETH WHITENING KIT
This glowing teeth whitening kit utilizes light therapy to brighten up those pearls of yours. Whether we like to admit it or not, our teeth's color has a large impact on what we consider beautiful. It should go hand in hand with your day and nighttime routine.
Pros: Easy to use, they have a wireless option now.
Cons: Wired option is a bit awkward with the three ends for different devices.
SHOP ON TRYSNOW.COM
STAY CLEAR OF THESE
1. Masks with microcurrents can be dangerous and definitely aren't for everyone. They are also uncomfortable and should be avoided when possible.
2. Masks that look like face shields from our tests virtually do nothing and don't protect the eyes.
3. The Zoidberg looking masks that are made from silicone. While these are comfortable, they often lack full face coverage and we've also found them to be weak with typically only 66 bulbs. Not to mention a bit cumbersome with the remotes and they all smell like formaldehyde out of the packaging.
WHICH IS BEST FOR YOU?
Like many things in this world, it's situational. In fact it's NONE industry wide if you are sensitive to light or take any medications that increase light sensitivity.
That aside, if you can afford the best in class technology then go for the Artemis or Avina X1 They don't disappoint. If you can't quite justify splurging on the apple of beauty you can opt for the a well rounded Cleopatra Mask. We really do like having the ability to take care of our neck at the same time which is where the Artemis and Cleopatra really shine.
Then you have your budget option the Regenalight which works well especially for the price. Feeling a Korean mask but not wanting to quite go as high as the Artemis and Avina? Then give the Celestalight a whirl with it's power in numbers. While we do like the Spectralite, we feel like it's too much of a hit and miss depending on your face size. This is something we don't have to worry about with the other masks mentioned and you're better off making your own strap (the thing is cursed for real) or simply lying down with it only. It's hard to ignore the reviews on Sephora outside of our own tests. If they ever come out with a second version and listen to the complaints it will surely be a hit.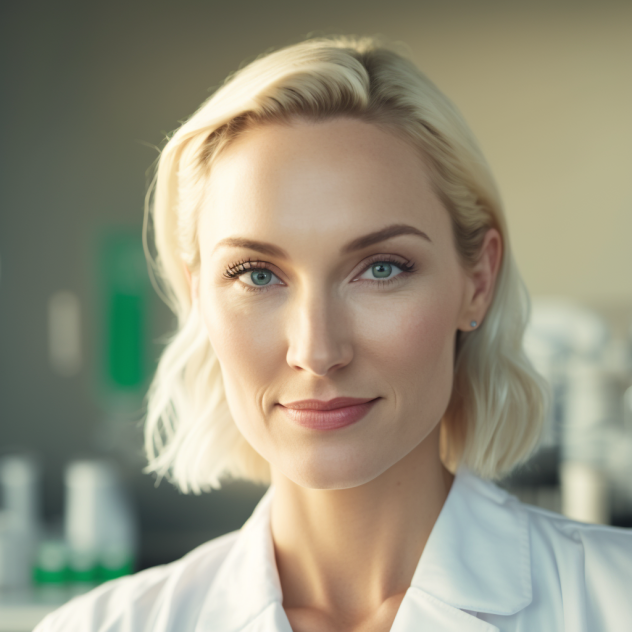 ABOUT THE AUTHOR:
Outside of work, there's nothing more that I enjoy than Yoga and a glass of wine. Sometimes together.
- Kathryn Shaffer